Create custom sized patterns

With PhotoPearls software you can create patterns according to your desired size. The current world record created with PhotoPearls contains about 1,680,200 beads (4.65 m wide and 8.70 m high).
Read more here about our big bead projects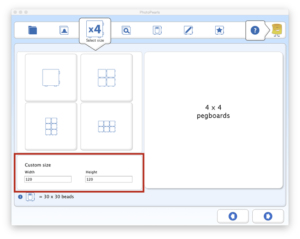 In step 3 – Select Size, you can manually change the text fields Width and Height to the desired size, calculated in number of beads.

Note: 1 pegboard = 30 x 30 beads.
How to calculate the number of beads in width and height based on centimeters
cm * 2 = number of beads. Example: 15cm * 2 = 30 beads
Still having issues? Contact support